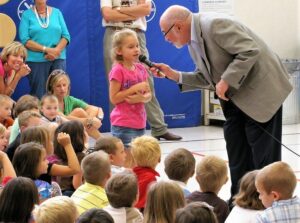 Once again in 2021, The Prescott Jazz Summit welcomed students from Bradshaw Mountain High School and Prescott High School for a day of concerts, coaching and interactive discussions about jazz. Both schools performed for the professional musicians who provided constructive ideas for improving their performance on selected pieces. 
Since 2000, The Prescott Jazz Summit has Included schools and students from all over Arizona in our educational workshops and outreach programs: Prescott High School, Chino Valley High School, Bradshaw Mountain High School, Franklin Phonetic School, Glassford Hill Middle School, Verde Valley School in Sedona, Thunderbird High School (Phoenix), Tucson High School, The Arizona Jazz Academy (Tucson), Mile High Middle School, The Sedona Jazz on the Rocks Youth Band, The Prescott Jazz Summit Youth Band, Miller Valley Elementary, Washington Traditional School, Lincoln Elementary, and Abia Judd Elementary.
Two Decades Committed to Music Education
The Prescott Jazz Summit has an educational component as part of its yearly schedule. We have given clinics for bands from all over Arizona, had student ensembles perform at ourannual festival, given funds to local music departments, given scholarships to deserving students, and presented assembly programs in schools. We have reached over 5000 studentsin North Central Arizona.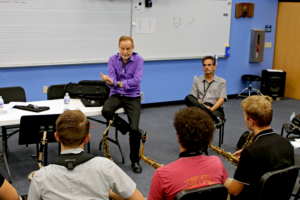 We present assemblies for the WHOLE student body in the schools where we perform. It is very important to present jazz music in an entertaining and "inclusive" form for ALL the students, not just the music students. These programs are done at NO CHARGE to each school. We pay the musicians out of funds we raise for the program. We are working to encourage young musicians to become great jazz players, and also cultivating a new audience for jazz music. By performing for all the students, we find that we are always making new "fans" for jazz music. We do demonstrations on each of the instruments, so that the students get an idea of what each instrument sounds like and how it works. We have done these performances in elementary schools, middle schools and high schools. In almost every school where we have performed, there have been new student inquiries about how to get into the band program and the administration offices have always had calls from enthusiastic parents talking about how much their sons and daughters enjoyed our programs and how they came home and actually talked about what they had heard. We do clinics for the music students in many of these schools after we perform the assemblies, so that we can also teach the music students more about jazz music and jazz history. We try to create interest in more listening to jazz greats and in finding out about how jazz music progressed over the years. We also work with the students on their respective instruments to give a little extra boost to their practicing. In a few instances, we have even rehearsed their jazz band to give constructive comments.
A 501 C 3 Non-Profit Organization
This whole Educational Outreach program is funded through donations to "Friends of Big Band Jazz." (A 501c3 nonprofit corporation.) FBBJ is the sponsoring organization for the Prescott Jazz Summit as well as the Stan Kenton Legacy Orchestra tours around the USA. It has given more than $60,000 for jazz camp scholarships, funds to school music departments, funds to help musicians in need, and the Habitat for Humanity for the New Orleans Musicians Village