Prescott Jazz Summit
August 25-27, 2023
The 22nd Prescott Jazz Summit will be another great event. Musicians from all over the United States will perform for the entire weekend. Our Friday night concert will be at Elks Theater. The Saturday big band concert will be at Ruth Street Theater at Prescott High School. We will also have the Sunday concert at the Hassayampa and the Jam Session at Murphy's Sunday night.
Tickets Coming Soon
Learn More
The 2023 Prescott Jazz Summit will be happening on August 25 though August 27.  Tickets will go on sale this spring, and we will be providing more information at that time nears.
For now, please visit us at any one of our ongoing monthly jazz concerts!  See below.
Schedule for the 2023 Jazz Monthly Concert Series at the Elks Performing Arts Center – Crystal Ballroom
All concerts feature the Prescott Jazz Summit All-Star Combo with guest vocalists and musicians, to be announced.
Jazz Influence on American Culture
Jazz Summit – No Elks Concert
Ghoulish Tricks and Jazz Treats
Jazz was born in the USA in and around New Orleans.  It traveled up the Mississippi River and to both coasts within just a few years, to become America's true art form.  From the 1920's through the 1940's music based on Jazz was considered "Pop" music.  From Dixieland to big band swing in night clubs and dance halls, to the concert stage, jazz music was the rage.  Even what we know as rock n' roll came from jazz music through rhythm and blues.  Our festival journey this year covers everything from jazz origins, through its many versions, including the Latin influence from South America, Cuba and Puerto Rico.  We hope you enjoy the trip!!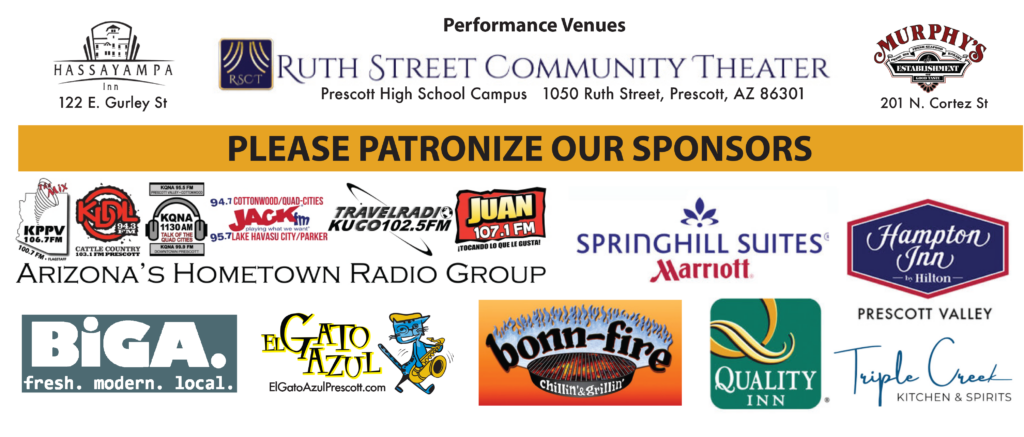 Please stay with our sponsor hotels when you visit Prescott!