Ronnie Rose sings at the 2019 Prescott Jazz Summit with a small group and the big band.
Nearly all of the performers in these videos are back in 2021!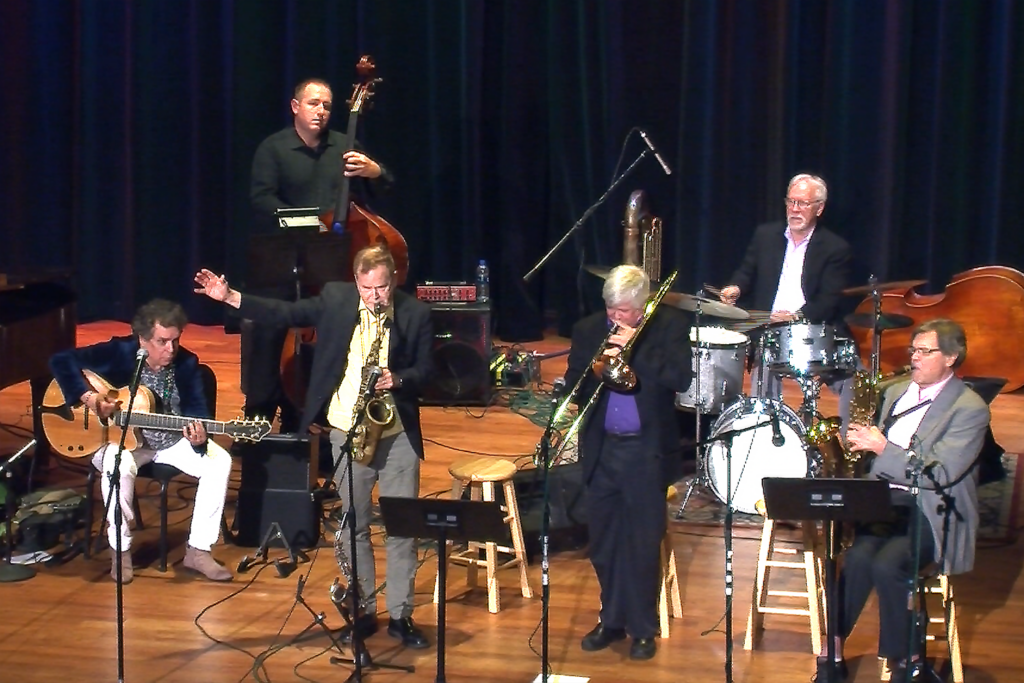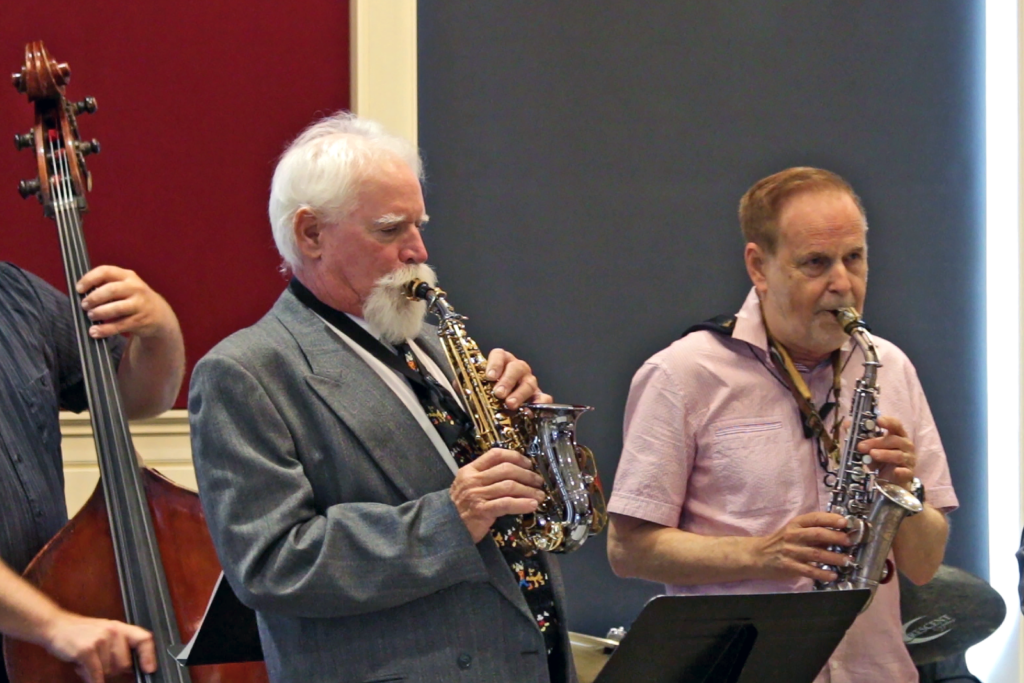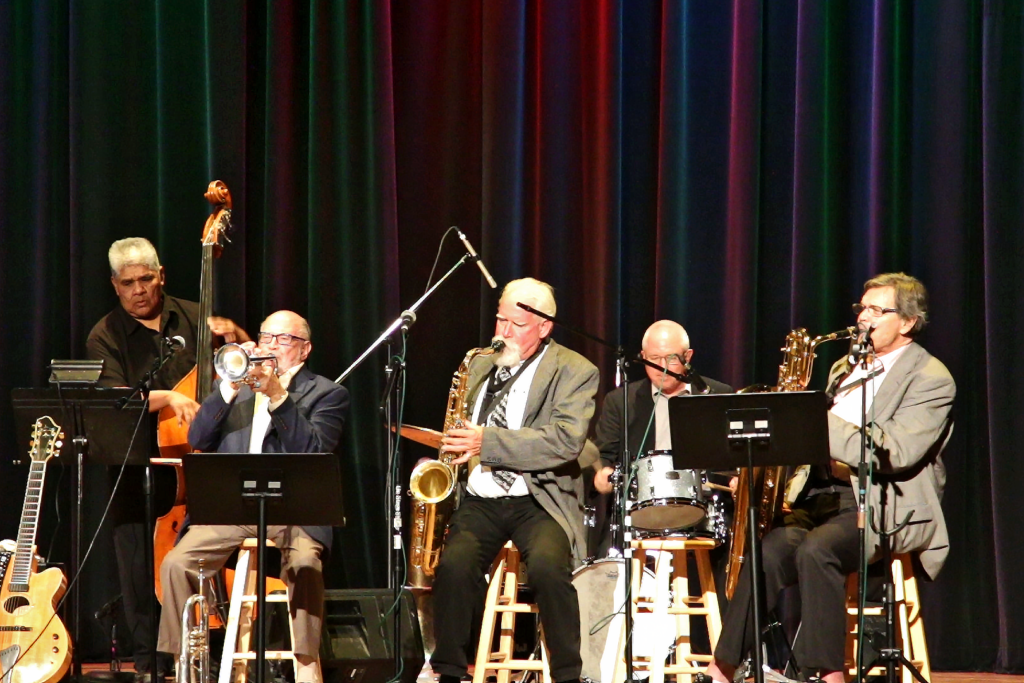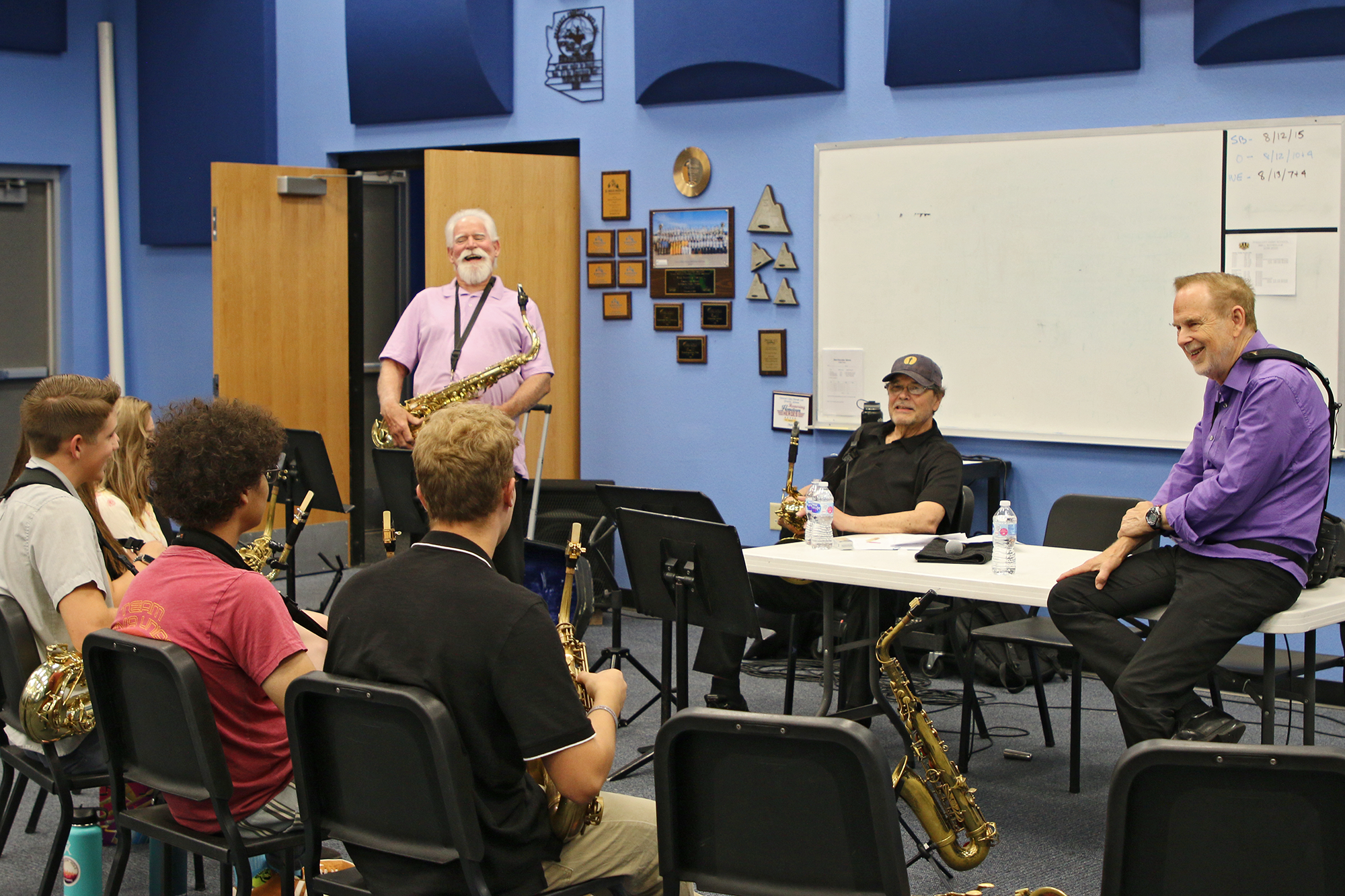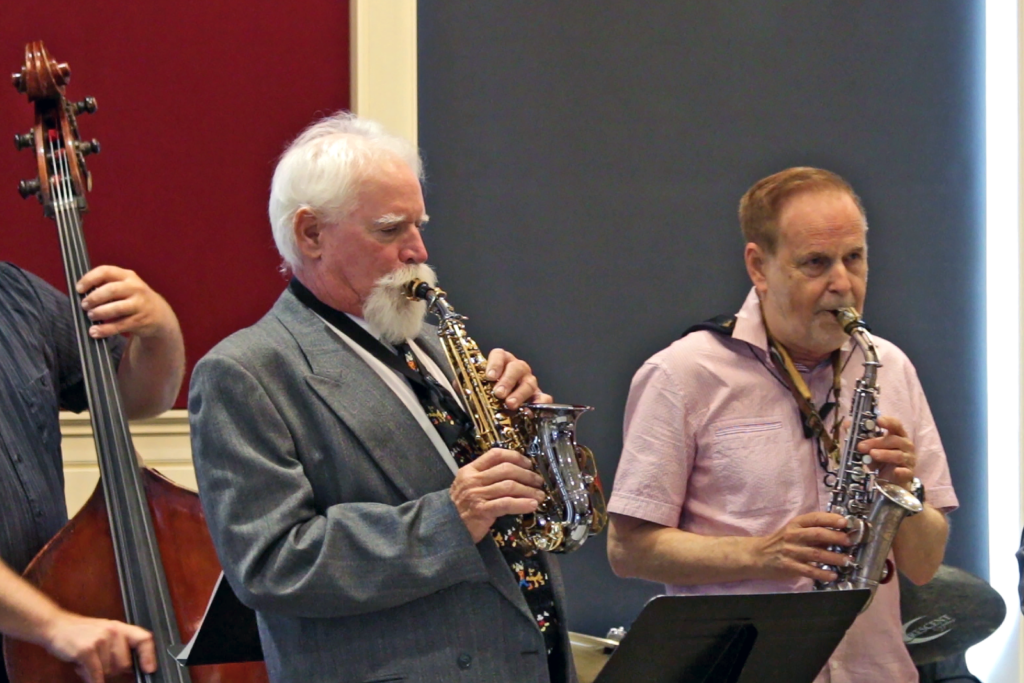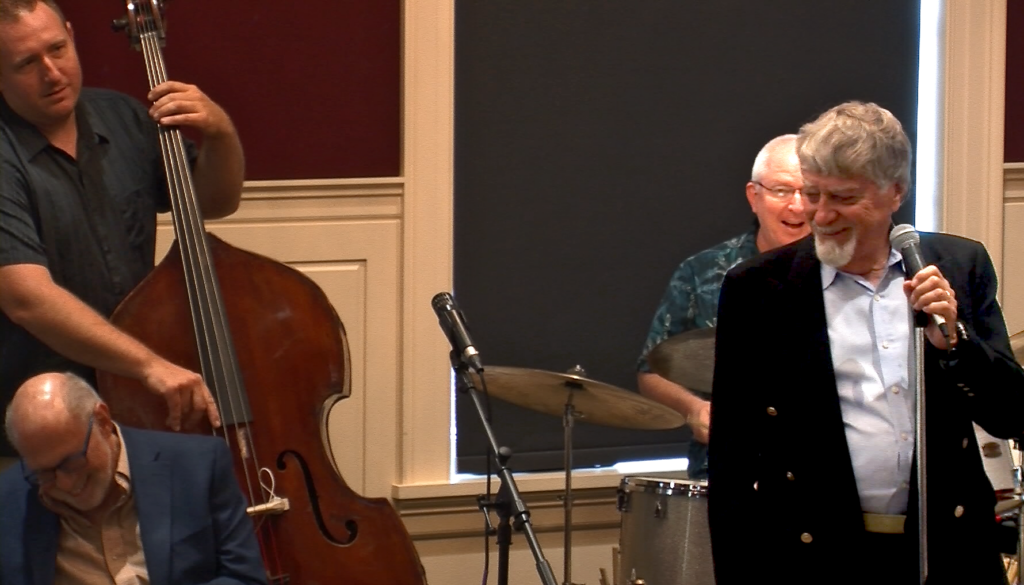 Banu Gibson joins us in Prescott!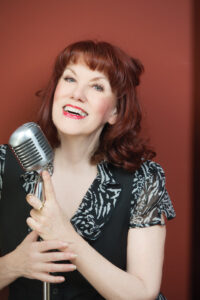 We are pleased to announce that Banu Gibson, one of the leading performers in New Orleans for decades, will be joining us this year in Prescott for the Jazz Summit. Banu is a bandleader, vocalist, dancer, banjo/guitar player, director, and choreographer, and she manages her own record label (Swing Out Records).
In addition to being the director of the New Orleans Traditional Jazz Camps for youth AND Adults, she was featured in the 2010 New Orleans Magazine as "Top Female Achiever" and continues to keep a vigorous performing schedule in non-pandemic times.
She has performed at the French Quarter Festival and New Orleans Jazz Fest since the 1980s, and her other honors include recognition by the New Orleans Preservation Resource Center in 2009 for her contributions to music. She was also a New Orleans Magazine 2007 Jazz All Star and appeared on the cover of OffBeat magazine for June 2015.
Tom "Bones" Malone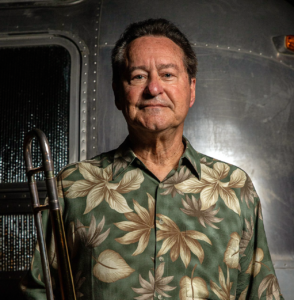 Photo by Rob-Walker-WalkerPhotoWorks
Bones Malone is famous for trombone, but he plays numerous instruments including saxophone, trumpet, tuba, flute, and bass guitar.. He has been a member of The Blues Brothers, Saturday Night Live Band, and the CBS Orchestra, the house band for the Late Show with David Letterman.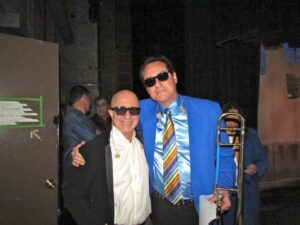 Born in Honolulu, Hawaii, Malone graduated from North Texas State University with Lou Marini, who would also become a member of the Blues Brothers band. Both were members of the One O'Clock Lab Band at North Texas.
Guests also include members of the Stan Kenton Legacy Orchestra and vocalists Ronnie Rose and Dennis Rowland.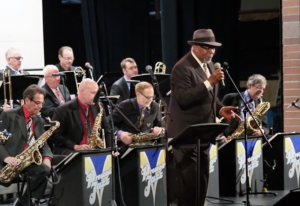 Ronnie Rose at Prescott 2019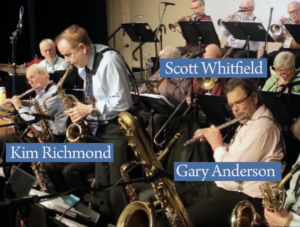 Members of Stan Kenton Legacy Orchestra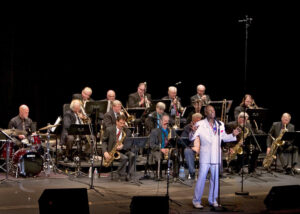 Dennis Rowland at Prescott
Click on the image below to see a bigger schedule image you can print!

Due to an issue with Gunhild Carling's visa as she returns from engagements in Sweden, she will be unable to perform at the Prescott Jazz Summit in 2021. She is dissapointed to not be able to perform for you, and we hope to have her here in the future.
The 20th Prescott Jazz Summit – August 27-29, 2021 – will be another great event, with plans for the festival to be in the Ruth Street Community Theater at Prescott High School, the Hassayampa Inn, and Murphy's Restaurant (final jam session). Guests will include the legendary Tom "Bones" Malone (from the Blues Brothers, Saturday Night Live and David Letterman), New Orleans Mainstay Banu Gibson as featured vocalist, plus members of the Stan Kenton Legacy Orchestra and vocalists Ronnie Rose, Dennis Rowland and Scott Whitfield.
Friday 8/27/21
"Meet the Musicians" Reception with Hors d'Oeuvres
Arizona Room at the Hassayampa Inn
5:00 – 6:00 PM
Adult Ticket - $20.00 – No Host Bar
Friday Night Concert –
Jazz As You Like It 
Ruth Street Theater at Prescott High School
7:00 PM
Adult Ticket - $30.00
Saturday 8/28/21
With Students and Guests at
Ruth Street Theater at Prescott High School
From 10 AM - 2 PM
Free clinics, student performances & workshops - open to everyone 
Saturday Night Gala
All-Star Big Band Concert
Ruth Street Theater at Prescott High School
7:00 PM
Adult Ticket - $35.00 
Sunday 8/29/21
Sunday Morning Jazz Brunch
Marina Room at the Hassyampa Inn
9:30 AM – 12:30 PM – Buffet open until 11:30 AM
Ticket $55.00 – Includes Food and soft drinks
No Host Bar
Sunday Afternoon Concert
Jazz for a Sunday Afternoon
Marina Room at the Hassayampa Inn
2:00 PM
Adult Ticket - $25.00
Musicians Performing Throughout the Weekend Include :
Trumpets – Mike Vax, Bruce Gates, Dave Coolidge, Derek Young, Peter Welker, Stefan Locar
Trombones – Scott Whitfield, Tom "Bones" Malone, Art Swanson, Brian Zabriskie, Calvin Audis (Bass Trombone)
Saxophones – Kim Richmond, Gary Anderson, Tony Vacca, Dave Russell, Paul Brewer
Piano – Khris Dodge, Reggie Thomas
Bass – Chris Finet, Selwyn Reams
Drums – Claude Askew, Kenny French
Guitar – Howard Alden, Jack Petersen, Rick Schmidt
Vocalists – Banu Gibson, Ronnie Rose, Dennis Rowland, Scott Whitfield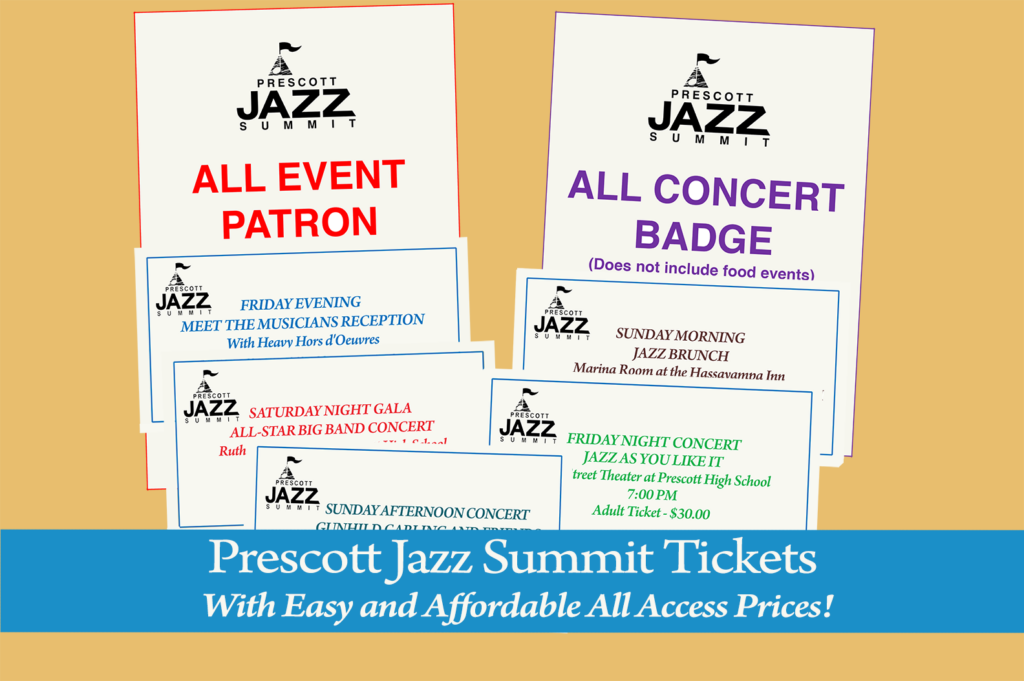 The Prescott Jazz Summit has been an annual event for most of its 20 year history, pausing only due to Covid-19 protocols for the 2020 event. We're pleased to be back this year as strong as ever, and look forward to you joining us for great jazz from world class musicians again in 2021. We encourage you to attend as many concerts as possible, and recommend either a Patron or All Event purchase as the best value for anyone who wants to attend a number of events.